OUR LITTLE FAMILY
'Our little family…'
Jarrod McKenna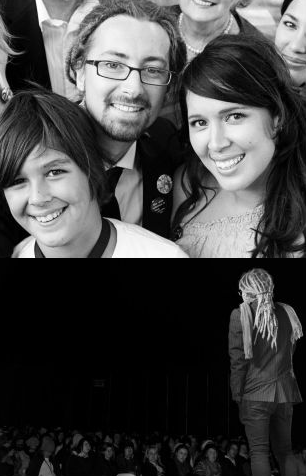 Jarrod, Teresa and their son Tyson are one 'little family' with a bold vision for creating a welcoming and inclusive community for our newest Australians. They has spent the past eight years living and working in Lockridge amongst the marginalised; indigenous, homeless and refugee members of our society, demonstrating their family's commitment to living life with and for others.
 Teresa is a social worker with the Association for the Blind WA. Teresa studied social work specialising in women's studies and community development and has years of experience using these practical skills both professionally and through her community work in Lockridge.
 Jarrod is World Vision Australia's National Advisor for Youth, Faith & Activism. Jarrod is a peace award recipient and pastor and an active Ambassador for Welcome to Australia, founding 'Welcome to My Place', a movement practicing hospitality for refugees amongst the larger community.
 Their 'little family' is supported by an incredible network of friends and family who share a commitment to refugees and share their vision for a welcoming, inclusive community for our newest Australians.
WHY ARE THEY STARTING THE FIRST HOME PROJECT?
 'Teresa and Jarrod put other people first.'   
Father Bob Maguire
 Jarrod, Teresa and Tyson believe that love is practical and the First Home Project is an opportunity for them to put their love for our newest Australians into action. As a family, they have decided to take tangible action, put others first and build their lives around responding to homeless refugees in Perth.
 Sharing their lives and committing their lives to including the marginalised and vulnerable in our societies is a part of who this young family are. It's what they have always done. It's what they always will do.
 And now, they're inviting you to join them. You can join this young family and practically demonstrate your compassion for our newest Australians by taking action here.